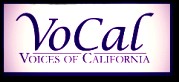 Tickets are now on sale for Voices of California's 2018 Holiday Show, Merry and Bright!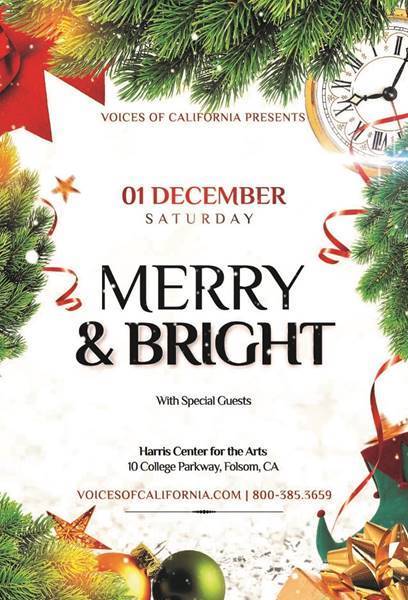 Join Voices of California and Friends for a fabulous musical event designed to kick your holiday season into high gear this December!

The annual Voices of California Holiday Show is always a highlight of the holiday season and features Voices of California plus several other high quality musical ensembles from throughout the greater Sacramento Valley. Come have a fun afternoon and enjoy some great music and good times!
When and Where:
Saturday, December 1st, 1 PM
Harris Center for the Arts
(Three Stages at Folsom Lake College)
10 College Parkway, Folsom

Adults $25-$35 (Regular or VIP); Students w/ID or Children 12 and Younger $12.50



Voices of California ("VoCal") is an award-winning, internationally competitive male singing ensemble based in Sacramento, which includes performers from all over Northern California. This 60-man ensemble sings a cappella music in four-part harmony and entertains audiences with fully staged and scripted performances and first-rate production values. Beyond the local scene, VoCal was the first Sacramento-area chorus ever to qualify to sing at the international barbershop harmony championships, and has now qualified for that honor three times in its eight year existence. The awarding-winning, internationally-recognized group has performed and entertained audiences throughout the country with their showmanship, their beautiful sound, and their rich barbershop harmonies.
For tickets, call (800) 385-3659 or go to:
www.voicesofcalifornia.org/tickets
or
www.harriscenter.net/online
or click below